Bridget Vreeland is the second-born among her best friends. However, in the movie, she is the first. She and her friends grew up in Bethesda, Maryland.
Her mother, Marlene, usually known as Marly, a debutante from Alabama, committed suicide (due to a mental illness) a few years prior to the start of the series, when Bee and her brother were eleven years old, which causes a strain in the relationship between Bridget, her father, and her twin brother, Perry (Pervis).
Bridget excels in soccer and is known as the superstar of the group. She is also the most daring and courageous, often acting on impulse rather than reason. She usually does not think twice before doing something no matter how dangerous it is. She is noticeably closer to her friends than her immediate family.
Despite seeming to be the strongest of the four, she is actually the most vulnerable, often making self-destructive decisions when the consequences of her actions prove to be too much. Carmen, Lena and Tibby, Bridget's best friends since birth often worry about Bridget because of her impulsive decisions.
Bridget's nickname is 'Bee'. Bridget is also hardworking. In the Second Summer of the Sisterhood she arrives at her grandmother, Greta's, home in Alabama and works tirelessly in the attic, transforming it into a bedroom.
Marly and Bridget have many things in common like their intensity and beauty but Marly is described by Greta as giving up too easily.
Bridget's love interest is Eric who she met at a soccer. Since he was a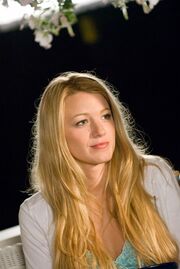 Appearance
Edit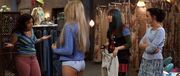 Bridget's most notable physical characteristic is the long, pale blonde hair that she inherited from her mother and grandmother.
Her hair is what makes men of any age look too young, provoke catcalls, and make hairdressers proclaim it a miracle.
People often automatically assume that the blonde is fake, as proven in Forever in Blue by Carmen's supposed friend in college, Julia, who says to Carmen that Bridget must be highlighting her hair to get the strange colored effect.
She is tanned and has deep ocean-blue eyes. She is quite tall around 5'10 and has a slim but curvy, toned and athletic physique. She got her stunning body from playing soccer, tennis and other sports.
Community content is available under
CC-BY-SA
unless otherwise noted.